Archives by date
You are browsing the site archives by date.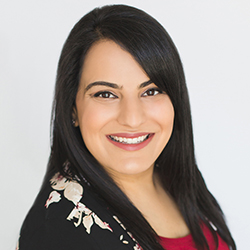 May 12, 2017
Hometown: Vancouver Program: MD Undergraduate Program (Vancouver-Fraser Medical Program) What attracted you to your field? I have always been drawn to medicine, as it provides the opportunity to connect with individuals and form meaningful, long-term relationships with them. Medicine allows for the unique ability to not only understand patient's symptoms but also their illness experience […]
March 31, 2017
The early application deadline is back! It's earlier this year – August 1. However, the incentive is the same as before. Applicants who submit all required documents and fees by August 1, 2017 at noon Pacific Time and who are invited to interview will receive their interview invitations a day early. We inform applicants whether […]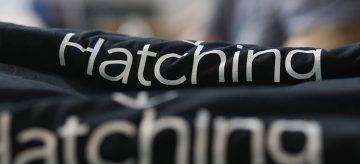 March 24, 2017
Explore highlights from this year's Hatching Health event, an interdisciplinary, student-led competition aimed at finding real-world solutions to today's healthcare challenges.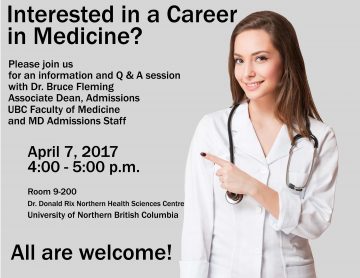 March 10, 2017
Are you a prospective or future applicant who lives in the Prince George area? If so, please check out the poster on the left for details about an upcoming info session at UNBC (click to enlarge). The Associate Dean of Admissions and MD Admissions staff will be available to answer questions and provide information about […]
March 2, 2017
On March 1, fourth-year UBC medical students gathered to celebrate the results of the first round of the Canadian Resident Matching Service (CaRMS).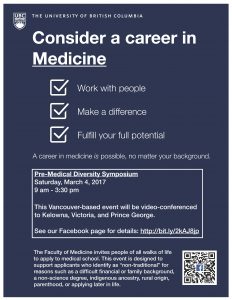 February 17, 2017
The following is a message from the organizers of the 2017 Pre-Medical Diversity Symposium (click poster to enlarge): Are you interested in a career in medicine, but don't fit the traditional premed mold? Are you curious or confused about the road to applying to medical school? Do you want to hear from medical students who […]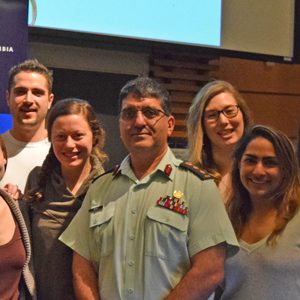 February 17, 2017
Colonel Jetly, Senior psychiatrist and Mental Health Advisor to the Surgeon General from the Canadian Armed Forces, talks with UBC medical students about mental health.
February 15, 2017
Site Preference forms are due soon and some applicants may still be struggling with their site preference rankings. Other applicants have a pretty good idea of where they would like to go, but may be curious about what it would be like to live and study at a site other than their first preference. Luckily, […]
February 15, 2017
Thank you to Mike, Hannah and Drew for responding to our questions! Mike says: What do you like best about your site? Kelowna itself is a beautiful city with all you need for living, shopping, and things to do. Downtown is right on Okanagan Lake, but in an hour's drive you can be up at Big […]
February 15, 2017
Thank you to Riley for sharing his thoughts about life at IMP! What do you like best about your site? The medical student community here on the island has always encouraged me to maintain a balance of work with self-care. This balance will be tremendously important during our careers, and something that I feel is […]